FYT Interactive Fitness
An interactive in-home fitness platform consisting of a 2-lens projector and sensor cameras that facilitate various workouts within a living space using an AI trainer and real-time tracking.
MY ROLES
User Researcher
UX/UI Designer
Usability Evaluator
METHODS
User Interviews
Heuristic Analysis
Iterative Prototyping
User Testing
TEAM
Ralph Buan
Chase Nguyen
Di Xu
Christian Enriquez
TOOLS
Figma
Miro
---
Due to the coronavirus pandemic, local governments issued shelter-in-place orders. Gyms all over the world shut their doors and sales in home fitness equipment soared. People of all fitness levels had to adapt to this new reality of staying at home and social distancing.For many, this sudden shift in lifestyle was accompanied by a decrease in motivation to work out. To guide our process, we asked ourselves:
How might we motivate people to work out at home during a worldwide pandemic?
---
USER INTERVIEWS

Near the start of the pandemic, while shelter-in-place mandates were in full effect, we talked to young professionals to learn about how this sudden change has affected their exercise habits, if at all.

We noted the major pain points that these people were experiencing during this time with regard to their physical fitness which all boils down to a decrease in motivation due to factors like limited space, lack of community, and rising levels of uncertainty.

Below are some notable quotes from the people we interviewed:




"I find it difficult to self-motivate. In the past, I've relied on the structure of a group fitness class because they show you exactly what to do."


- Marcus, Data Analyst
"I'm normally very active so it was depressing stepping on the scale. I was embarrassed to see people because I gained so much weight."

- Adriana, Lawyer
---
Our initial proposal was mixed reality fitness glasses for outdoor and indoor workouts. Because of it's small size and portability, we imagined different type of use case scenarios for various types of workouts such as circuit training, running, and pull-ups. The idea was that when the user puts the glasses on, augmented artifacts, functioning as gaming elements, are displayed and interacted with.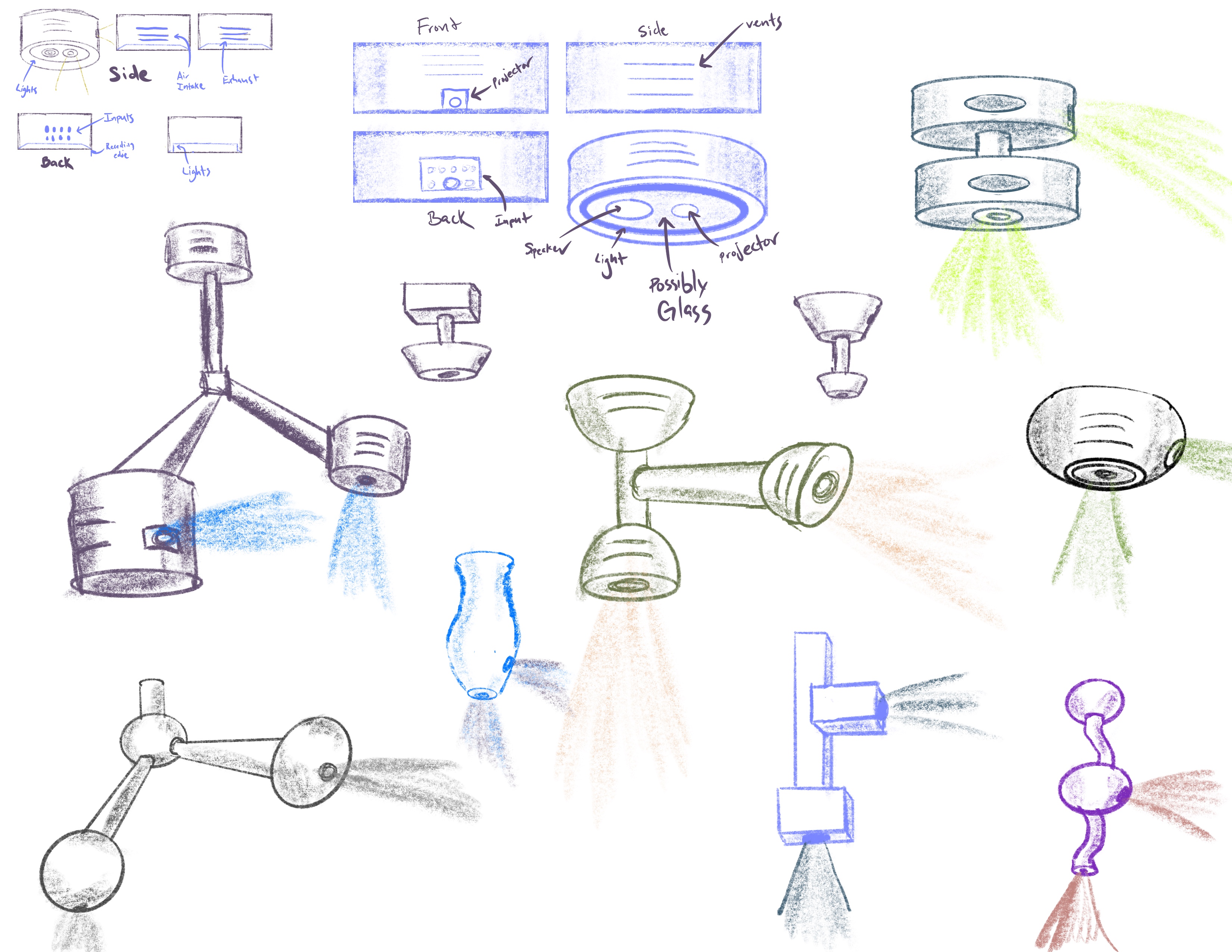 We pivoted away from wearable glasses due to technical limitations. Instead, we saw an opportunity in projection-mapping that would still provide an augmented environment for users. By pursuing this medium, we'd be able to offer a more robust experience due to greater processing power.

Our solution developed into a two-lens projector that displays media on two surfaces, straight ahead and down below. Sensor cameras are also included to track body movement and provide real-time feedback during a workout.

We initially thought to have one sensor camera connected to the projector above the user but discovered that placing it on the side wall will make for better accuracy and positioning when capturing the user's movements.
---
FYT is a gestural-based interface using simple, intuitive hand signals to activate commands.
In lieu of user testing, I conducted a
heuristic analysis
to evaluate the usability of the screens. Here were some of my major findings:
VISIBILITY OF SYSTEM STATUS
This category is particularly important for our solution because of the novel interactions and medium that most people aren't used to. In the initial design, there was no way for users to know how to start, pause, and end a workout. I suggested adding elements such as a countdown timer, start button, and progress bars to give the user an indication to where they are in the app.
MATCH BETWEEN THE REAL WORLD AND THE SYSTEM
As a gestural-based interface, it's important that the gesture icons are easily understandable and not confusing for the users so that they can perform the right actions without making mistakes. They also need to be distinct enough for the sensor cameras to identify.
RECOGNITION OVER RECALL
Possible gestures should be visible on the screen. The system should allow users to practice the gestures with a tutorial and include gesture affordances throughout the experience. I also noted
a gamification opportunity to display personal records before, during, and after a workout so the user could strive to beat it.
AESTHETIC AND MINIMALIST DESIGN
It's important to give users the option to customize the screen to display certain personal data/feedback like heart rate, calories based on what's important to them –– any extra unit of information competes with others, diminishes visibility and creates noise.
---




Splitting into two teams (product design and UI) was an efficient way to delegate the work. We each played to our individual strengths while giving each other constant feedback. Our research and personas paved the way for this project by influencing our thinking and design decisions. We frequently bounced ideas off one another and pivoted when necessary in a way that kept the design question at the center of the conversation.

This project pushed me to dig into the technical requirements and networking of the product like never before. Designing a novel idea from scratch is challenging because of all the moving parts. We were forced to make fast decisions. I feel like we missed out on some insights because we weren't able to conducting user tests.



We want to continue exploring wearables and how we can integrate them into the overall experience. Same goes with fitness equipment like dumbbells, stationary bikes, resistance bands. These added connections provide more options and flexibility for users. As far as the AI trainer, we want to give the users more options as to who that trainer could be. It could be fun to workout with your favorite celebrity or a fictional character.